History
SABA Group, one of the main leaders in the elevator & escalator industry in IRAN, was founded in 2001. The background of SABA Group is 3 decades of experience by its well-known founders in the market.
After years of offering the best People Flow experience together with our global partners from Europe, now we create a unique solution for the modern & developing construction industry; TECNOVA .
TECNOVA is a modern concept in the elevator, escalator & automatic building door industry which aims to create smart choice & fulfill the architectural concepts & the mega trend of urbanization demand.
TECNOVA elevators, are designed & manufactured precisely with the latest European Norm together with a desirable harmony in visualization which any visitor admired.
Why TECNO

VA

?
• Energy-Saving & Low Running Cost:
Reduce start-up current, save electric energy, improve drive efficiency, keep low the motors heat-energy & traction machines mechanical-energy, simplified maintenance & no lubricants required.

• Smooth Ride:
Lowering running noise & creating quite space in gearless machines, reducing vibration in building.

• High Safety:
The high-quality brakes ensure the best possible safety level in the daily operation. In addition they are certified as safety device against uncontrolled car movement upwards.

• Space Saving:
Machine room less elevator inclination to minimum overhead requirement by its compact disc type drive.
Reliable installation
TECNOVA products are installed by experienced & educated SABA installation team which has already installed more than 4000 units of Elevators, Escalators & Automatic Building Doors.
Engineering, Installation, Quality Control & Project Control are different cores of TECNOVA team that all guarantee reliable process & operation.
Installation teams are equipped with modern & precious tools which follow the latest safety standards.
Continuous training system & multi-level quality control assures the quality of installation & provides the maximum customer satisfaction.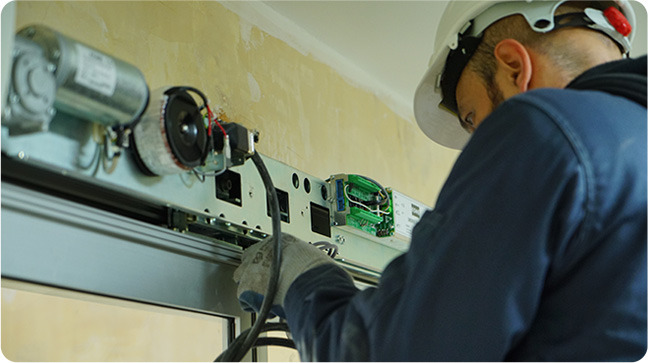 Excellence in Service & Maintenance
Service & maintenance of products is presented by the only one service company in our industry in IRAN that has the largest service network & 24/7 method in addition to experienced staff & storage centers to bring better customer care & support.
We are using modern methods for maintenance of elevators, escalators & building doors which brings significant increase in life span of products.